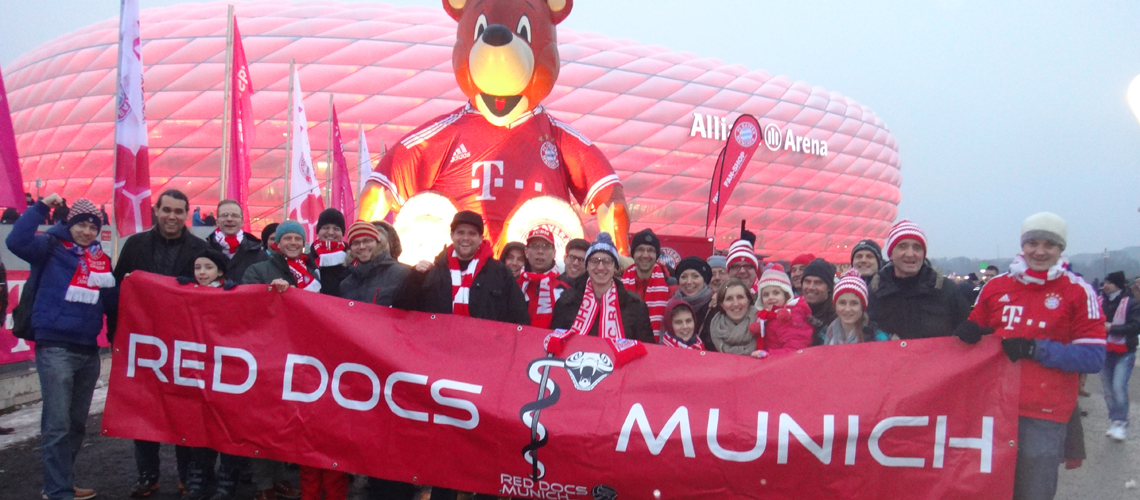 About us
After the devastating Champions League final "dahoam" we – that is Christoph Habersetzer and Dr. Mark Salzmann – decided that something had to be done. We wanted to support the FC Bayern Munich even more than in the past. Therefore more than 40 friends of all ages and all sorts of occupations founded a fan club. We decided to call our fan club "Red Docs Munich" to show our "medical" heritage since a lot of us work as physicians, surgeons and nurses. But we emphasise that we welcome anyone who is willing to share our ideals.
After the founding on the 12th October 2012 we managed to be registered officially by the register of associations and we were quickly acknowledged as official fan club with our own logo by the FC Bayern München.
Our aim is to support sport in general, especially football, to promote the popularity of the FC Bayern Munich. We encourage friendship among football fans.
Therefore we will attend any sportive events and also organise such events. We try to reach more interested people with our different activities.
We take a stand for fairplay and we condemn any form of racism, discrimination and xenophobia. We say no to any form of violence, pyrotechnics and everything else that endangers peaceful fans. Supporting sports and the FC Bayern is our most important goal.
Because of this guiding principle fans from many countries and from three continents joined the Red Docs Munich. We are very proud that people give memberships as presents to family and friends. We are even prouder that parents register their newborns as Red Docs.
The best of all was the triple – ten Red Docs were at the Wembley and celebrated the title on site.
We also celebrated the double in Berlin 2014. Three Red Docs managed to be in a selfie with David Alaba. We have won eight titles in two years and there are more to follow!
Our most important highlights are matches we can visit by the fan club programme. More than 160 Red Docs were at the stadium already – that would not have been possible without the programme. That is why also our young members have a chance to see a match of our team at the stadium. If we cannot go to a match we organise stadium tours and events at the ran lounge and executive lounge.
We received a worldwide media attention for our demand at the general annual meeting of the FC Bayern to change the annual fee – we do not want the number 60 to play any role concerning the FC Bayern. One of our local newspapers captured this again two years later. Unfortunately the annual fee has not been changed yet but we will not give up!
We want to be more than a normal fan club. It went without saying that we started taking care of the memorial for the Manchester United catastrophe in 1958 since this happened in our home city. Red Docs moved for naming that particular place "Manchester-Platz" creating a longterm relationship. Before and after the Champion League match against Manchester United we looked after the memorial and the fans of Manchester United who came to mourn their team. Red Docs were also present during the visit of the old team in 2014. Even if there are not any matches we care for the memorial and all the fan memoralia which are placed there during the year.
We want to follow this path and think about more than football and the FC Bayern Munich since we want to be more than normal fans.
Board
1st Chairman: Dr. Mark Salzmann
2nd Chairman: Christoph Habersetzer
Treasurer: Rudolf Lindinger
1st Secretary: Thomas Mrochen
2nd Secretary: Maren Salzmann-Brünjes
Assessor (supporter activities): Kai Salzmann
Assessor (sozial media): Dr. Niklas Dellmann
Assessor (revision): Sven Hellmann
Assessor (corporate ID): Julian Fugmann
Assessor (Manchester Platz): Maren Salzmann-Brünjes
Assessor (Manchester Platz): Stefan Kary
Assessor (Banner): Jörg Wohland